Basic Analog and Digital Multitrack Recording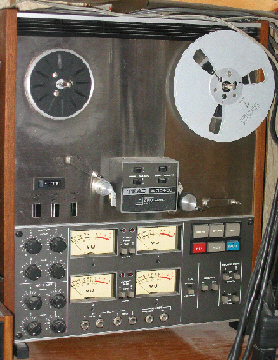 Making a CD is a several-stage process, the way we do it. First, on a multi-channel audio recorder of some type, either analog or digital, we record separate channels, one for each voice or instrument. Normally we record just one or two channels at a time, while playing back any other channels that have already been recorded. Then using an analog or digital mixer, we mix those channels into two-channel stereo. Then onto hard disk, we save a WAV file, either digitized from the analog mixdown or directly from the digital mixer output. The last step is to make multiple CDs from the files on the hard drive.

In 1997 we used a four-channel Teac model A3340S tape deck to record the separate tracks that year. We connected a Shure PE-566 mike and an AKG D-190 mike directly to the tape deck mike inputs
.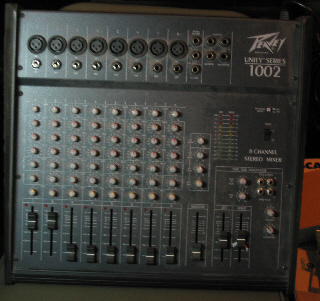 To do an analog mixdown, we used a Peavey 1002 mixer to the combine four tape deck output channels into two-channel stereo. With the mixer, we did what people normally do.... set relative levels, set left/right pan for each instrument or voice, and make some slight equalizations.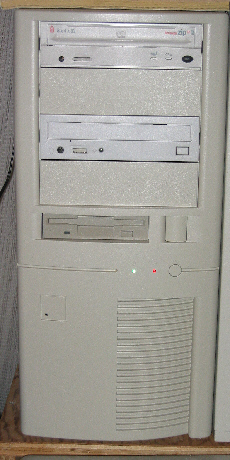 Then we digitally recorded the two-channel stereo on a PC with Spin Doctor software, bundled in the Adaptec Easy CD Creator software.. Then we used Adaptec East CD Creator to burn the final CDs. That year, we printed stick-on labels and put them onto each CD, using Print Shop version six software..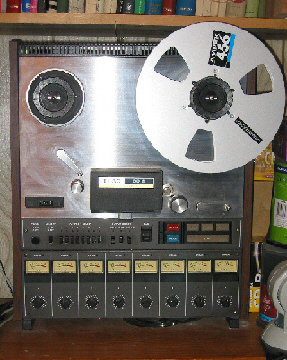 In 1999, we used a Teac 80-8 eight-channel half-inch tape deck to record up to eight separate channels onto half-inch tape. We were still normally recording just one or two channels at a time. The 80-8 does not have mic inputs, just line-level inputs. So we needed to use mike preamps in a Tascam M-104 mixer. We still used the same Shure PE-566 and AKG D-190 mics.


The Tascam M-104 mixer It has eight mike inputs but only four of those eight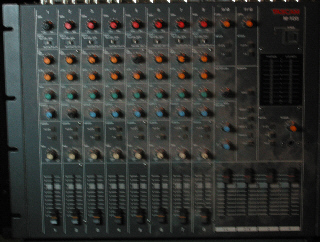 channels have separate line-level outputs, in the form of insert send/receive jacks. So we used the inserts send circuit for channels one through four to feed the tape deck first four channels, and the four "main" outputs on the mixer to send channels 5-8 to the tape deck.

Then we mixed the eight channels with the Peavey U-1000 mixer, and same procedure as in 1997 to go onto hard drive and the final CDs. We were still using the older pc, an AMD K6/2 450, with 384 meg of RAM.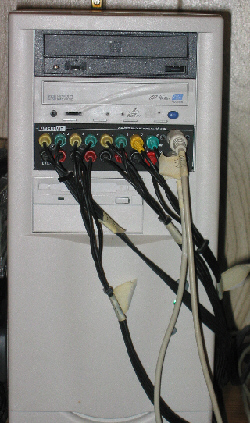 Then, beginning in 2000, and for all CDs hence, we have used a digital recording software called Cakewalk. First it was Pro Audio 7, then Pro Audio 9. This software behaves similar to a multi-channel tape deck, where you can play back sounds already recorded while you are recording new channels. It works fine with just about any modern sound card, like most versions of a Creative sound blaster PCI-128 and the newer PCI-512 and Sound Blaster Live! cards. The sound card you use must be capable of full duplex digital audio at 44.1 Kc sample rate.

Pro Audio has a built-in metronome tick where you can program in the tempos to use during the song, and has a digital mixer to mix down the channels you recorded into a two-channel WAV file. It will also record MIDI data, and display and print those data as score. Also, you can play back MIDI tracks while recording them as WAV tracks, then mix those WAV tracks with the live sounds you recorded.



We have also installed an eight-channel Terratec sound card, consisting of a PCI card and a front-mounted unit that fits in a 5 1/4 inch external bay, normally used for an internal CD drive. This sound card has eight RCA inputs, eight RCA outputs and MIDI in and out on the front unit, plus SPDIF in and out on the rear panel of the PCI card, and stereo analog in and out on the PCI rear panel also. You can "gang" several of these units together, as long as you tie their sampling clocks together, so you can record 16 or 24 channels at once, but since we normally record only one or two channels at a time, there wasn't much sense in having more than one.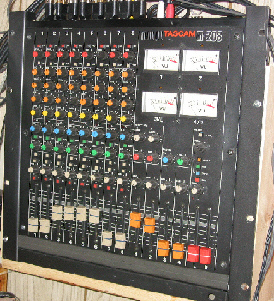 We've moved up to a one gig intel PC now, and to a Tascam M-208 mixer, an older but nice unit. It has eight full channels, all with send and receive insert jacks, so now there is no confusion or complex wiring and also no need for two mixers, one for mic preamps and one for monitoring. It's all done through the single mixer.

For the 2003 CD, we printed on silver CDs using a Casio thermal transfer Title printer, CW-50. And for the 2004 CD, we printed on white mat CDs using an Epson R-200 inkjet printer.

The latest changes here has been to modify a few PCs to contain four burners each. An SIIG ATA-133 dual atapi PCI controler card allows that,. And, with Nero 6 full version, you can burn on at least four CD burners at the same time. The trick is that the burns all must be made at the same speed, so all four burners have to share in common some good practical safe and slow burn speed,. Normally we burn at 4x speed.

For the Christmas 2004 CD, we've been using the AKG D190e mike for vocal, and tried an AKG D200e mike for the instrumental parts. I think that sounds much more realistic.


Additional instruments: We usually record only one or two instrument or voice at a time, while listening to synchronize with any previously recorded tracks.


Mixdown: With Cakewalk's digital mixer we set volume and pan of each track, plus the overall volume, and export each song to a WAV file on the hard drive.

Production: With Adaptec Easy Creator software we "burn" those WAV files onto a CD-R disc, in an audio CD format. This is the final product. Most but not all CD players can play these CDs.


Song Spinner Records Home Page